President, Patrons & Trustees
HRH The Duchess of Cornwall
President of Ebony Horse Club
"As the proud President of Ebony Horse Club, I am hugely impressed by its work with young people in one of London's most deprived inner city areas. Learning to ride takes a lot of courage, patience and determination and it allows children to discover inner strengths they never knew they had and, even more importantly, improves their self-confidence. I hope many more children will have the chance to learn to ride with the help of everyone at Ebony Horse Club."
HRH The Duchess of Cornwall, a keen rider, first visited Ebony Horse Club on the occasion of our Annual Awards Ceremony in September 2008.  We are hugely honoured that Her Royal Highness became our President in April 2009. The following year The Duchess held a reception at Clarence House for supporters of the Ebony Community Riding Centre, which she opened in October 2011. HRH has met children from Ebony Horse Club on several occasions including at the London 2012 Olympics Eventing Test trials in July 2011 and the London International Horse Show at Olympia in December 2012, when Ebony Horse Club was nominated Charity of the Year.  
Ronke Philips
Senior Correspondent, ITV News, London
"I am so proud to be a Patron of Ebony Horse Riding Club. It may be a small charity but its impact on youngsters in the local community is immeasurable. The difference the contact with horses makes to each and every child is an absolute pleasure to witness. The look of satisfaction on the children's faces as they are riding; the discipline and self-respect they attain, and the contact with people and places they would never otherwise come into contact with, is what makes Ebony such a unique and special place."
Charlotte Steel
Former member of Great Britain Eventing Team
"I am very pleased to be a Patron of Ebony Horse Club. It has transformed the lives of so many youngsters in Brixton and nearby areas, and has involved much of the community in a good and positive way.I have always enjoyed working with and helping young people. They have such open minds! They are soaking up the discipline, courage, attention to detail and care of another living creature required like sponges, and have changed and bettered their lives, attitudes and chances as a result of their involvement with Ebony. It is hugely rewarding to feel you are helping to make a difference and giving some young people the chances and choices they deserve."
Oli Bell
ITV Racing presenter
"Having seen first hand the superb work that David and all the team do at Ebony it became apparent very quickly that this was a really special place. The club has a monumental impact on the lives of young men and women from the inner city of London and that should not be underestimated. Through the relationship with horses these young men and women are able to learn so many important characteristics such as respect, discipline, kindness, team spirit and community – many aspects of life that those more fortunate take for granted. In the case of a lot of the young riders that I met when I visited Ebony it was clear that this centre has given them a second family and given them a real sense of purpose. It was genuinely incredibly moving and had a huge impact on my own outlook towards life. To be asked to be a patron is a tremendous honour, one which I am incredibly proud of and I will do as much as I can to help this wonderful organisation. I have a strong feeling that I will learn more from the children then they will from me – in many ways, that is the beauty of Ebony. Everyone is in it together."
Khadijah Mellah
Youth Patron
"Khadijah rode at Ebony Horse Club for many years and in 2019, while studying for her A Levels, trained and rode in the Magnolia Cup at Glorious Goodwood on Haverland. Her story made headlines around the world and the documentary, Riding a Dream that followed her journey was watched by millions. She is now studying Engineering at university as well as working as an ambassador for diversity in racing. We are still pleased to see her riding at Ebony whenever she can and she is a fantastic role model for our youngsters."
Susan Collins
Chair of Trustees
Sue has had a long career in the film and TV industry and ran her own production company for 15 years. She now works as a screenwriter. She grew up with horses and competed as a Junior show jumper. She came to EHC as a volunteer before joining the board. She brings her equine experience, as well as creative and business management skills to her role as trustee.
Quailyn Gayadeen
Vice Chair of Trustees
Growing up in Trinidad and having my family own 3 horses from the age of 7, I developed a love of all things Equine from an early age. My children were members of EHC, with my elder son Aidan having been privileged enough to be chosen to ride for the Duchess of Cornwall for the opening of the centre on 2011. I have been a local resident for 18 years and volunteered with multiple organisations, from Lambeth Victim Support to St. Helen's R.C. Primary School for the past 15 years, as community service is of huge importance to both my social and moral conscience. My background is in Finance and I was the Treasurer of Friends of Ebony Horse Club (FoEHC). It is with great pride I have served as a Trustee for the past 6 years, being associated with a fully inclusive riding centre serving the Coldharbour Ward, offering respite and freedom to disadvantaged children such as Young Carers, which fosters belonging and promotes life changing development.
Julian White
Trustee
Julian White has had a long association with EHC. He is a professional and highly respected horseman and trainer with strong connections in the equine world. He has taught at EHC as a volunteer instructor since the centre opened and taken members on residential and day trips. He has personal experience of overcoming prejudice in the equine world and is especially interested in breaking down stereotypical attitudes. He can help to support those that wish to enter the equine industry and advise our equine staff when required.
Oliver Harrison
Trustee
Oliver works in financial services marketing and communications. Oliver first visited Ebony a few years ago as a volunteer on a corporate programme. Oliver was deeply impressed by all he saw at Ebony and was keen to get more involved. He brings his years of experience in marketing and communications to his role as trustee.
Sue Ellenby
Trustee
Sue has had an extensive career at a senior level in the housing association sector, and much of this has been in Lambeth. She has been a trustee of several socially committed organisations and is currently a Trustee of Phoenix Futures (an alcohol and drug charity).Not a rider but she has always believed contact with animals gives one joy. Now retired and living locally, Sue felt she could offer governance and managerial competence, time and enthusiasm to Ebony.
Jonathan Evans
Trustee
Jonathan has worked in Human Resources for over 40 years, having been HR Director of some of the UK's largest organisations in both the private and public sectors. These roles have ranged from being HR Director at Orange as it grew from just eleven people in one room to a global workforce of 30,000 to being Director of Civilian Personnel at the Ministry of Defence where he had HR responsibility for 110,000 people. He now operates as a consultant and interim director in a range of roles across the country.His interests aside from his family (especially his grand children) are broad ranging from the history of the First World War to bread making via rugby and travel. Having recently completed an MA in International Relations is contemplating undertaking further study in military history. He has a home in Borough and in Yorkshire. His Yorkshire home is in a barn conversion and is currently sleeping in the stables whilst the building work is being completed.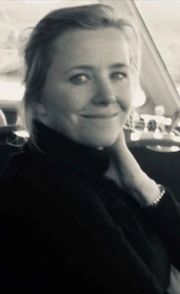 Philippa Buchanan
Trustee
Philippa is a finance professional, that has spent most of her time in the UK, working in IT transformation projects in the banking sector. Originally from South Africa, she is mad about all animals. She is a firm believer that all children should have the joy of animals in their lives and it's this belief in the positive impact that animals have, that was the driver to join EHC.