Transforming young lives through horses
Welcome to Ebony Horse Club, Brixton. Our mission is to use horses to raise the education, life skills, wellbeing and aspirations of young people from disadvantaged communities within Lambeth.
A safe and positive place to belong
Developing life skills and aspirations
Life changing opportunities
About us
At Ebony we believe that the opportunities you're given shouldn't be limited by the postcode you are brought up in, so in 2011 we build our centre right in the heart of South London, Brixton. Just a stone's throw from the famous 'Electric Avenue' and buzzing Brixton Market, you'll find our stables nestled right between tower blocks and overground lines. 
On an average day you'll see a hive of activity if you take a stroll past; lessons in session, yard clean-up, grooming, feeding, friendships being made and of course plenty of pony antics. However, it's what we do as a club outside these regular riding centre activities that sets us apart. Through the work of our youth workers, volunteers and supporters we're able to introduce some fantastic opportunities to our young people, whether that be days out at Ascot Racecourse or Ham Polo Club, to visiting high profile offices in the City of London, hosting guest speakers at workshops or just spending a relaxing day in the countryside. As well as riding and horsemanship, our members are able to further develop key life skills such as communication, empathy and responsibility in safe and enjoyable environment.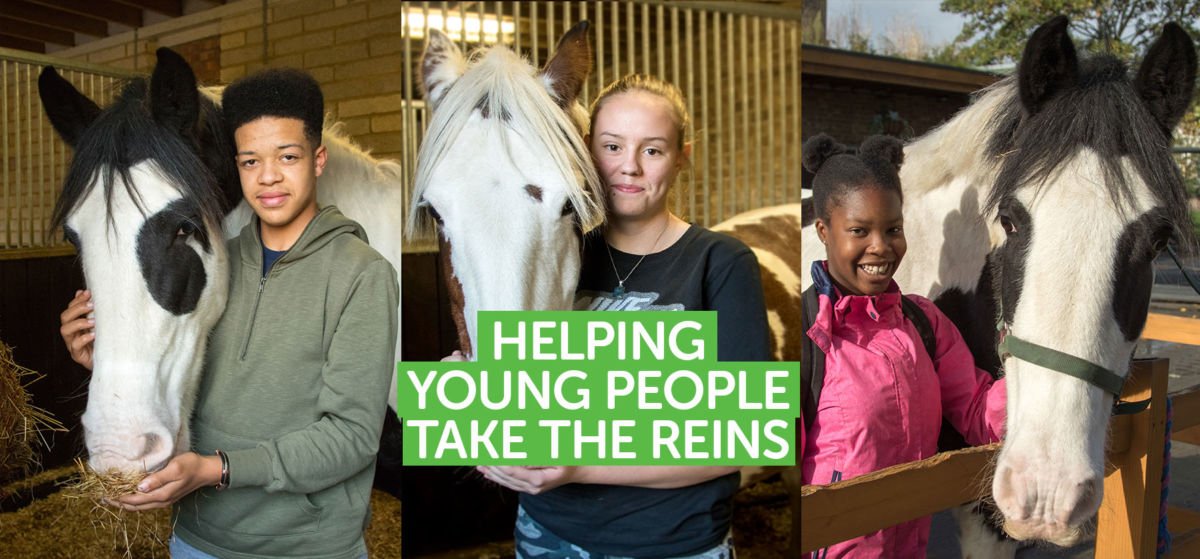 Lynden, 14
"Ebony Horse Club pushes me to be more, and gives me time and space to let go of what's happening in the outside world."
Jordi, 14
"I love coming to one place to ride Blue Boy. He is a close friend."
Chloe, 15
"It's a great place to come after school to ride and volunteer on the yard. If it wasn't for Ebony I'd be stuck indoors."
Our work
Our core activities at the club are always centered around improving the lives of young people living in South London, by giving them access to horses and riding but with a focus on developing key skills at the same time. Many of our young people are growing up in challenging environments and we seek to work with those who are most in need of support. There are several projects within the club that make up our core services:
Members lessons – We deliver weekly riding lessons to over 95 regular members from the local community, some are beginner riders and some are already jumping, hacking out in the streets of Brixton and even attending competitions
Young volunteering – We have a structured young volunteer programme for 30 regular members to develop key life skills and learn about what it takes to work in the equine industry. They get stuck in with everything from mucking out to supporting beginner riders in their lessons.
Trips and outings – We regularly take day long and residential trips outside of London. These trips could be horsey or educational, or even just a chance for our youngsters to enjoy some downtime away from hectic south London. However, they all help to broaden horizons and provide new opportunities.
The RIDE programme – We developed a programme to deliver group riding sessions for local schools and youth groups, catering to around 30 children and teenagers every week. Most of these young people have never even been near a horse before
Youth Work – Youth work practice is key to everything we do and built into all our activities. We also provide dedicated youth work support to help young people growing up in challenging circumstances, both in a group setting as well as providing 1:1 mentoring.
Horse riding has been proven not only to improve the physical and mental well-being of people, but also helps improve core life skills like confidence, teamwork and resilience. We really pride ourselves on being so much more than a riding school, and believe that personal development is just as important for our members as the riding itself. So, by combining these activities we're able to offer a life changing experience to young people living in one of London's most challenging areas, helping them thrive in the saddle and in their lives outside of Ebony Horse Club.
Get Involved
Whether your an local resident looking to make a difference in young people's lives, or a business wanting to make a bigger impact in the city, we invite you to get involved and help us to transform lives.
We are recruiting a Senior Youth Worker to help support our fantastic youngsters. For this role please see the JD below and email [email protected] by 20th April to apply. Senior Youth Worker JD and Person Specification Equal Opportunities Monitoring...
read more
STAY IN THE LOOP!
Get the latest news and updates sent to your inbox.